Inheritance is dressed in creativity and tradition with the upcoming edition of the Artisan Flea Market, which will take place on December 6th, coinciding with Constitution Day. This event, organized by the Youth Area of the City Council of Inheritance, aims to be a showcase for young artisans from Inheritance and neighboring towns.
Plaza de España will be the meeting point where artisans will exhibit a wide range of handmade products, providing an ideal platform to promote their entrepreneurial initiatives and offer the public the possibility of acquiring unique and special pieces, ideal for gifting in the upcoming holiday season.
The Artisan Flea Market is a perfect opportunity for visitors to discover and appreciate the value of local craftsmanship, as well as for artisans to showcase their talent and skills. From handmade jewelry to artistic ceramics and textiles, each stand will be a reflection of the creativity and effort of its creators.
Those interested in participating in this exhibition have until November 27, 2023 to register. Applications should be sent by email to [email protected]. In addition, for any queries, they can contact the Youth Area on the phone 663744782, where Maria Jesús will be available to provide more information.
This Artisan Flea Market is not only a celebration of local art and creativity, but also a way to boost the local economy and support small entrepreneurs in a festive and community setting. The City Council invites all residents and visitors to enjoy this special day, which promises to be a day full of discoveries, art, and culture.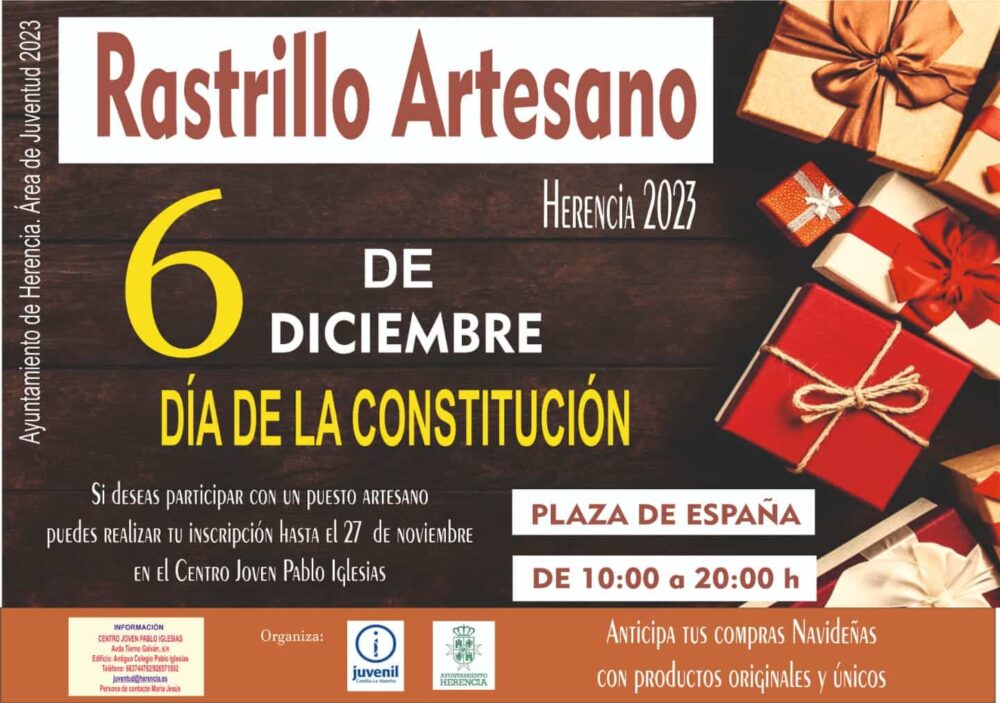 Spanish post in Herencia se prepara para su Rastrillo Artesano en la Plaza de España