The beaches resounded with the triumphs of Castilla-La Mancha during the recent Beach Handball Spanish Championship (CESA) held from September 1st to 3rd. Despite the weather setbacks that led to a temporary suspension of the tournament, the teams from the Castilla-La Mancha Handball Federation shone brightly, showcasing their strength and determination in each match.
The highlight came from the girls' infant category. Elena Gonzalez and Laura Martín Buitrago, guided by the expert coach Francisco Javier García Arias, won the coveted gold medal, becoming the Spanish champions. This achievement not only highlights their talent but also the commitment and dedication they showed throughout the championship.
Equally exciting was the performance of the team in the girls' youth category. Blanca Gómez, Michaella Paz Bocchieri, Maria Gonzalez, Alicia Huertas, and Carolina Yebenes made the field and their fans vibrate, finishing the tournament in a respectable second place. Undoubtedly, their effort and perseverance secured them a spot on the podium, highlighting that the future of beach handball is in good hands in our region.
On the other hand, skilled players Claudia González Román, Laura López, and Claudia Martín also left their mark on the championship. Their dedication allowed them to achieve a respectable ninth place in the Spanish Championship, adding another achievement for the federation.
This championship has once again demonstrated that Castilla-La Mancha is a talent pool in beach handball. The accomplishments achieved are the result of the passion, effort, and teamwork of players and coaches. From here, we congratulate all of them for representing our community with such pride and passion. Undoubtedly, with this dedication, the future holds even more victories and successes for our handball. Go, champions!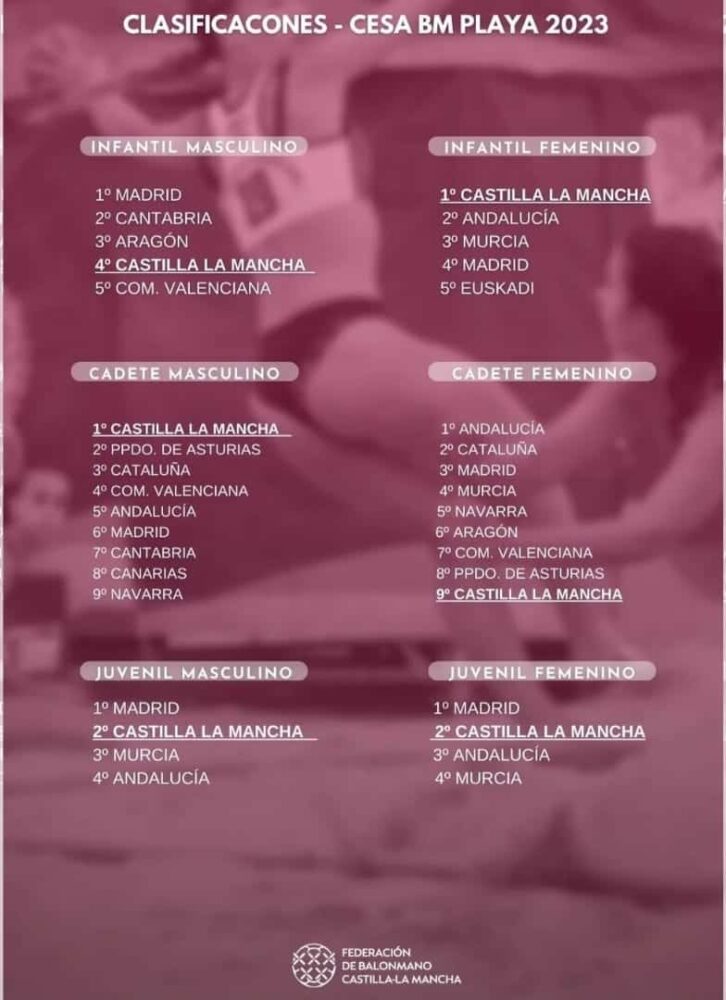 Spanish post in Éxitos de Castilla-La Mancha en el CESA de Balonmano Playa